Paper-based manual invoicing processes take longer to generate and are administratively expensive for both you and your customer. This increases the risk of invoices getting misplaced or overlooked which can slow down cash flow. Invoicing errors, disputes, and late payments are other common issues with manual invoicing. Though invoice automation software is an ideal solution to optimize processes and cash flow, choosing the right invoice automation processing software for your business matters. To help you decide, this article focuses on tips for choosing the right invoice automation software for your business.
What is Automated Invoice Processing?
Invoice processing automation is an intelligent approach to streamline invoices for accounts receivable collections. When you automate invoice processing, your invoices are accurately generated and sent to your customers. Software for automated invoice processing accelerates workflow by streamlining data entry, matching invoices with order numbers, and invoice reconciliation without manual intervention. The aim is to save the AR teams from tedious and repetitive administrative tasks to increase productivity and accuracy for AR management.
Why is Invoice Automation Important?
Invoice automation efficiently manages invoicing processes to increase productivity and free up resources who would otherwise be dedicated to manual work. Accounts receivable management solutions can help scale while ensuring cost sensibility particularly when the number of invoices and customers increases. Invoice automation software will send accurate invoices, preventing errors, minimizing invoice disputes, and accelerating the AR collection process.
Must Have Features in a Right Invoice Automation Software
As with any tool, determining the right fit for your business is essential. For an ideal invoice automation software, consider the following features.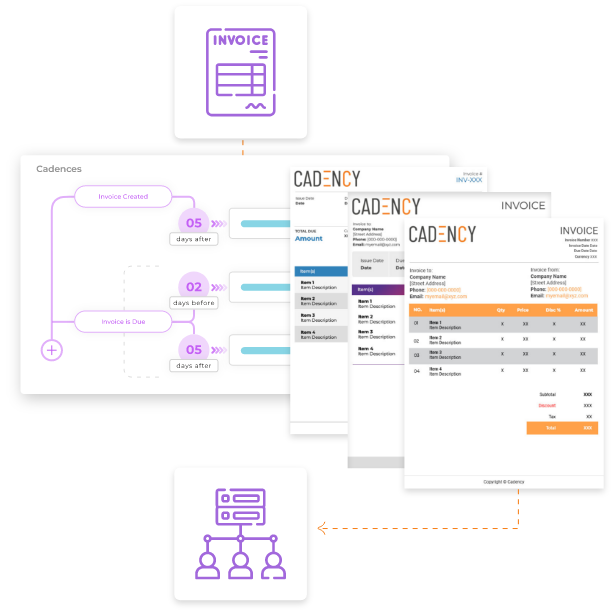 Cadency simplifies your invoicing process and also lets you customize invoice templates.
Invoice Verification
One of the most time-consuming processes with manual invoicing is invoice verification which requires approval from the authorized personnel in the company. The process is time-consuming when done manually. An automated invoicing process verifies invoice-related information immediately and accurately, making it easier to match, validate and record information in the database that can be retrieved when required.
Improved Visibility
An intelligent invoicing solution empowers you with better visibility to track unpaid and paid invoices in real time. When you can track invoices from a single source of truth platform, you can make data-driven decisions to improve your cash flow and avoid potential cash flow problems.
Customization
An ideal invoice automation software must be customizable according to the business requirements. When you can add rules to match your business needs, it facilitates by matching invoices with order numbers or creating recurring invoices for a seamless invoicing process.
Multi-Channel Invoicing
Traditional invoicing is limited to paper-based invoicing and accepts cheque submissions as a payment method. Automated invoicing supports multi-channel, allowing information delivery to various sources. For instance, you can send payment reminders to your customers through SMS and email. The standard formats of electronic invoicing include XML and PDF.
Exchange Rate Conversion
Converting the amount of one currency into your customer's local currency helps you cater to clients across borders. Automation saves you from manually calculating exchange rates and asking customers to pay invoices in your currency.
Variety of Payment Options
The electronic invoicing software reduces payment friction by allowing customers with various payment options to pay their invoices. Customers can choose from direct debit, bank transfer, ACH, or any other electronic payment method to make payment that supports quicker payments.
Intuitive User Interfaces
The invoicing automation software you choose must have a user-friendly interface you can use with little training. Complex invoicing software will take longer for the AR team to get familiar with and takes time to reap results.
Personalization
Adding a branded interface to your invoicing software will reinforce your company's identity and instil a sense of professionalism. Personalizing the invoicing software with your company's logo and colours will enhance customer experience and foster brand recognition.
ERP Integration
The right invoice automation software must integrate with your ERP or accounting system to sync your invoices, payment history, customer information, and other details. A two-way integration will connect your ERP with the invoicing software to pull and push different features.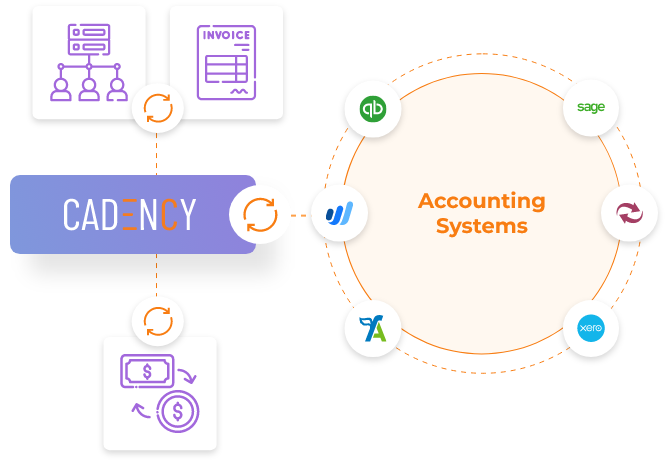 Cadency can integrate with your Existing ERP or accounting platform to sync your invoices, payment history, customer information, and other details
Choosing the Right-fit for Invoice Automation
There are three variations in invoice automation software, each with its merits. Considering the software that meets your business type and size is crucial.
Cloud-based Invoice Automation Software
An invoice automation software that manages accounts receivable processes on a centralized cloud-based system is a cloud-based invoicing software. This type of AR solution saves time and costs while increasing visibility to track invoices in real-time. Using a cloud-based invoicing platform prevents data discrepancies because it is one single source of truth that AR teams can access to make changes and retrieve data. Security is another significant advantage in storing data on a secure cloud platform, preventing the risk of being lost.
On-premises Invoice Automation Software
With on-premises invoice automation software, you have more control over the software and the data because it is installed within your company premises. You can also alter it to suit your business needs and scale it as per your business operations. However, you must invest in more software and hardware to scale or continually upgrade the on-premises software. Higher costs, software and hardware maintenance, and data loss due to insufficient disaster recovery planning are significant drawbacks of this model.
Hybrid Invoice Automation Software
A hybrid solution will have the features of both the cloud and on-premises systems. With the increased flexibility of a hybrid approach, an organization can decide which data to keep in the cloud storage and on the premises. The disadvantage of higher costs and infrastructure persists because it takes software and hardware licenses to install and scale. It is unsuitable for smaller business types due to the higher maintenance cost.
Benefits of Invoice Automation Software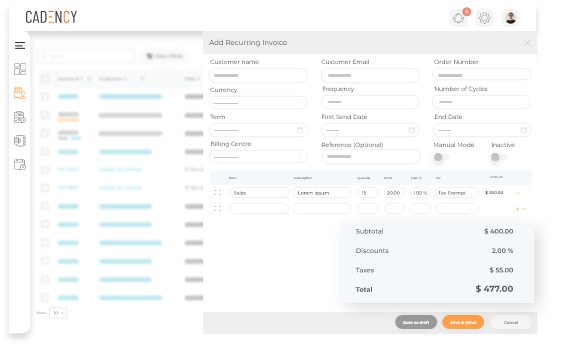 Automate one-time or recurring invoices with Cadency without human intervention
Reduced Manual Entry
Manual invoicing processes are time-consuming, with a higher risk of errors. An automated solution eliminates manual data entry, minimizes risk, and increases the accuracy of financial reporting. Embracing invoicing software speeds up invoicing while freeing your AR team to focus on strategic tasks. In addition, you boost your organization's productivity and accelerate your cash flow, ultimately improving your company's bottom line.
Automated Workflows
Lack of automation in traditional workflows means your AR team has to create invoices and repeat the administrative tasks manually. It is a pain for the AR team when creating recurring invoices. Invoice automation software uses a rule-driven process to automate one-time or recurring invoices without manual intervention.
Early Payment Discounts
Leveraging the early pay discounts is a common practice to collect your accounts receivable promptly. Giving discounts to your clients to get paid faster within a certain period saves you from chasing invoices later. A robust invoicing automation software helps your customers avail this discount so you get paid faster.
Customer Convenience
By replacing manual invoicing with an electronic invoicing process, you can allow customers to pay their invoices at any time of the day. Giving a variety of payment methods further improves the collection rate by allowing customers to pay using their preferred mode of payment. This enhances cash flow and strengthens merchant-customer relationships.
Sizeable Cost Savings
Cutting down costs is a primary invoice automation benefit. Automation speeds up your invoicing process, improves productivity, and reduces paperwork. All this translates into cost savings for your business.
Improved Client-Merchant Relationship
Embracing an automated invoicing process helps improve the relationship between a client and a merchant. When a merchant automates invoicing, the client gets accurate invoices promptly, preventing invoice disputes. Invoice processing automation streamlines payment reminders, saving from chasing clients on calls and messages. Upon invoice payment, the client receives a thank you note, developing a trust-based relationship between the merchant and the client.
Bolsters Security
Paper-based invoicing system is prone to missing or misplaced invoices. Manual work is also prone to fraudulent invoices, forged cheques, and other suspicious activities. Digitizing your invoicing process is the best decision you can make to protect your data and minimize the risk of scams. Using automation will help you limit information access, restricting individuals from interfering with essential data.
Reduces Carbon Footprint
Manual invoices are paper-based that require the printing of copies and the need to ship documents to various recipients. Businesses concerned about the environment find invoice automation an ideal solution to reduce or eliminate paper use. By automating the invoicing processes, enterprises reduce paper usage and eliminate the shipping requirements, thereby reducing carbon footprint.
Conclusion
Choosing the right invoice automation software is an important decision that affects the productivity and efficiency of your organization. By choosing the right platform, invoice automation software optimizes your accounts receivable processes, reduces manual work, increases productivity, and improves your organization's bottom line. However, you must consider your business's unique needs, including size and industry, before finalizing an invoicing software platform choice.
Cadency is a cloud-based invoice automation software that is ideal for small businesses and will also scale to enterprise level institutions. Cadency will integrate with your existing ERP or accounting software to automate your order-to-cash process, including invoicing, workflows, and customer communication. Cadency extends beyond invoice processing by offering your customers multiple payment rails and smooth user experiences. To learn more, schedule a guided demo with our experts, or sign up today!